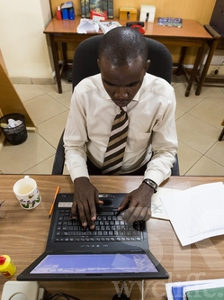 How often will your team members see this?
It costs money to keep them on the field. Make their time productive!
If you calculate the cost per year to keep your field team out there working and multiply that by their down time due to power outages, it just makes sense to budget in the equipment to provide reliable power.

Low-Powered equipment pays for itself
Choosing the right equipment can cut the cost of your backup or solar power in half or more, so don't tack on electric power as an afterthought, choose your equipment wisely. The GTIS Power Systems team can help you select efficient equipment and estimate the costs of the UPS systems, generators or solar power needed to keep your team working.
To start a consultation with an expert, just email us at: power_systems@sil.org
Our Blog section contains examples of how solar power can be used in remote village situations. Our Villager-III and Half-Pint power systems are specifically designed to power laptop computers in isolated village locations, enabling National Translators to work in their home village.  Cell phone boosters or BGAN satellite terminals can be used to provide Internet connectivity in the most remote places allowing for group collaboration.